The people of Metro West Ambulance have embarked on a new way of thinking. Tomorrow's challenges require new policies, new programs, and a renewed sense of purpose. To clearly demonstrate this commitment, we will adopt a new visual brand based on this prototype.
Experience Matters
The people of Metro West know what it takes to serve the communities we protect in Washington County. After all, in more than seven decades, our cumulative knowledge of who, what, when, and where is unparalleled. We've built strong relationships with the customers we serve. We've achieved partnerships with doctors, nurses, healthcare administrators, and community groups that are, effective, innovative, and efficient. And the daily collaboration with law enforcement and fire agencies helps us deliver the best care to patients and their families.
With a matchless combination of local knowledge and national responsibilities, Shawn brings a welcome approach to the helm of Metro West. A licensed Oregon paramedic and the former owner of Woodburn Ambulance for 25 years, his familiarity and understanding of EMS in Oregon and Washington County equips him to thrive in this era of change. And, Shawn's national credentials enable him to apply best practices and innovation to Washington County EMS.
Often quoted and recognized throughout the ambulance industry, Shawn is the immediate past president of the American Ambulance Association, and has served on the National EMS Advisory Council and the Oregon Public Health Advisory Board. Recently, and was appointed to the Ground Ambulance and Patient Billing Advisory Committee in the American Ambulance Association. Shawn was recognized by the State of Oregon Health Authority EMS Section when he was honored with the Directors Medal in 2019. He earned a Master of Arts in Leading Innovation and Change from York St. John University (UK) in 2014.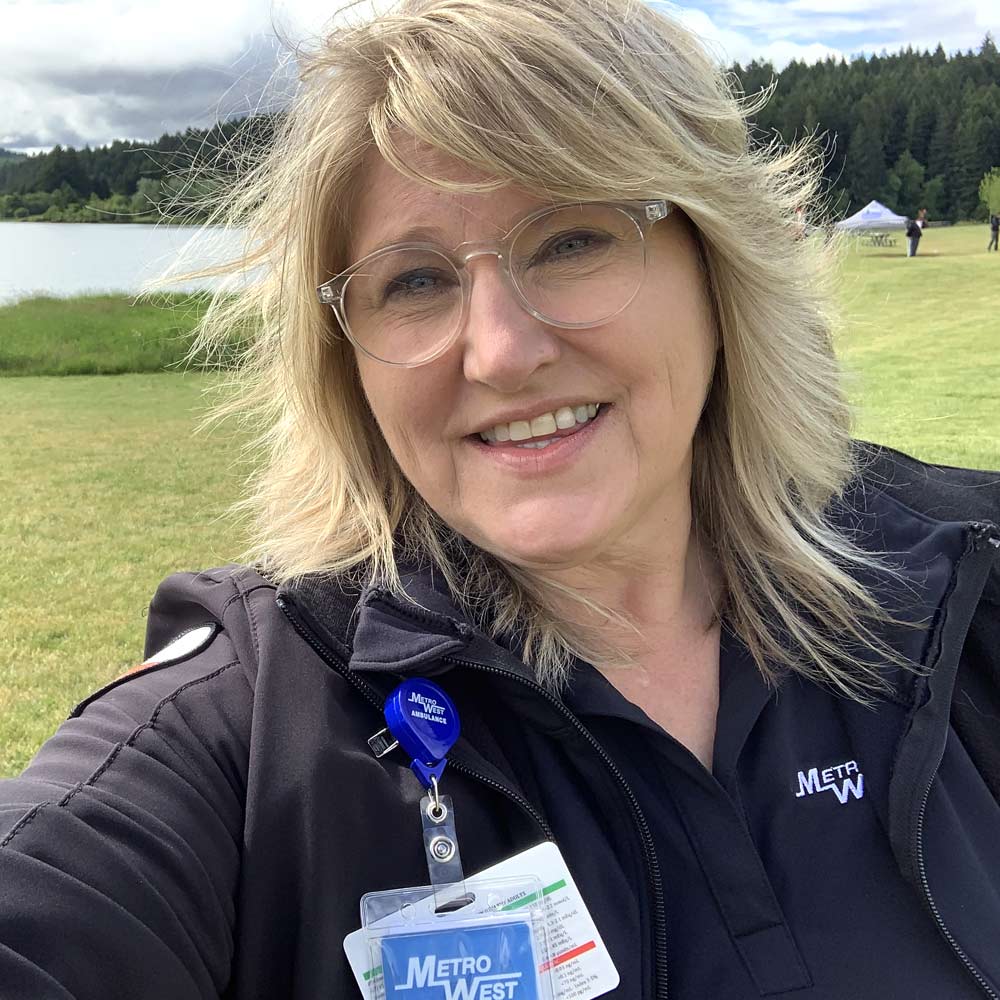 Serving through Community Service
Whether it's news about a multi-casualty incident, dangerous weather, or a global pandemic, our Outreach Manager & Public Information Officer, Jan Lee, is the voice you'll hear. And when it comes to community outreach and public education, Jan is there for Metro West. She serves on the Washington County Safe Kids committee, the Beaverton Chamber Area of Commerce Business Advisor Committee, and the Hillsboro Downtown Committee.
Jan's awards include Meritorious Service Award from the State of Oregon; American Ambulance Association Star of Life; Washington County—Excellence in EMS Award; and, School to Career Business Partner Award. Our entire community service team is passionate about improving the quality of life throughout Washington County.
Hospital Care—Right in Your Home
Metro West has led healthcare innovation in Washington County and the surrounding area. Launched by our Chief Business Development Officer, Erin Miller, we offered patients Mobile Integrated Health (MIH), providing specialized services and treatments through a hospital at home program. Working with Washington County EMS, the medical directors, and other partners, we've improved patient outcomes and reduced reliance on 9-1-1, which is better for patients, their families, and the community.
Our Mobile Integrated Health team works with Kaiser Permanente to treat patients with Medically Home's nurses who are working out of a virtual command center in Massachusetts. During a typical day, these patients can expect video calls with their doctor and nurse, and in-person visits from a Metro West paramedic, who checks their vital signs and gives medication. Ultrasounds, X-rays, even echocardiograms can be done in the home.
If you'd like to see what goes on in a busy ambulance service, please call Jan Lee for a tour. She'll show you the many features that make Metro West headquarters one of the most sophisticated facilities of its kind. Our advanced technology communications center, a high-tech fleet services operation, onsite fuel station, oxygen generating plant, and administrative and crew quarters are housed in a disaster-resistant, self-sufficient 15,000 square foot building in the heart of Washington County.
Metro West welcomes qualified candidates to join our team!
Metro West Ambulance
5475 NE Dawson Creek Drive
Hillsboro, OR 97124
(503) 648-6658
To arrange transportation please call (503) 648-6656
If you live in Washington County, and call 9-1-1 for an ambulance, Metro West ambulances are called immediately. 
Non-Emergency Transportation: 503-648-6656
Oregon Dispatch: 503-648-6656
Washington Dispatch: 360-693-7233
Business Office: 503-648-6658